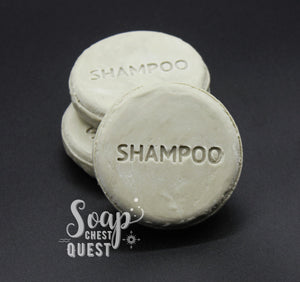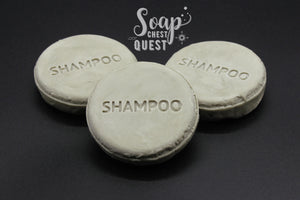 Green Clay Shampoo
Regular price
Sale price
$13.00
---
Green Clay Shampoo
Shampoo bar/Barre de shampoing
Sulfate free, plastic free, cruelty free shampoo in the form of a solid bar that's easy to use and offers an abundant, dense lather. Very little goes a long way with one bar offering 50+ uses!
Argan oil is an age-old beauty secret for gorgeous, healthy hair. This bar contains quality organic argan oil with high amounts of antioxidants, essential fatty acids and vitamin E, helping to increase the elasticity and restore shine to dull hair. Has the added benefit of helping the hair to comb faster, even without conditioner. 
French Green Clay is a premium cosmetic clay which is excellent for detoxifying and suitable for all skin types. It is known to help absorb and remove impurities from the skin/scalp. 
Scented with a home blend of lavender & rosemary essential oils. Rosemary is ideal for both dry and oily hair types, believed to help with growth and thickness while preventing split ends. Lavender is ideal for thinning, sensitive hair types and is believed to produce hair follicles to help strengthen and lengthen hair while remaining extremely gentle and promoting calmness. 
Instructions
:
Wet hair then wet shampoo bar and apply bar directly to the hair in downward strokes. Set the shampoo bar down and massage into hair like normal then rinse out. Repeat if necessary. For long hair make sure there's sufficient water in your hair to produce abundant lather.
*For external use only. If irritation occurs, discontinue use. If in doubt, first test on the inside of the elbow.
**If pregnant or nursing it is recommended to contact a medical practitioner to seek guidance prior to using products containing essential oils. 
Ingredients:
Sodium Cocoyl Isethionate (SCI), Sodium Lauryl Sulfoacetate (SLSa), Caprylyl/Capryl Glucoside, Illite (French Green Clay), Argania Spinosa Kernel (Argan) Oil*, Aqua (Water), Carrageenan (Red Seaweed), Lavandula Angustifolia (Lavender) Oil, Rosmarinus Officinalis (Rosemary) Leaf Oil, Propylene Glycol (and) Diazolidinyl Urea (and) Iodopropynyl Butylcarbamate (Natural Preservative)
*Oils certified organic from our supplier 
Shampoo bar etiquette
:
To prolong the lifespan of this handcrafted shampoo bar the use of a draining dish is recommended. Always keep it dry between uses and away from direct streams of water and daylight. If left standing in
water
it will become soft and wash away much faster. Unused shampoo bars should be stored in a cool, dry place, preferably not the bathroom due to the high humidity but for example in a linen closet or drawer that offers a stable dry environment. 
Additional Information
:
Net weight:
80g
Vegan
Sulfate free
Palm oil free
Tested on humans