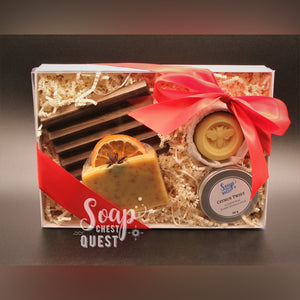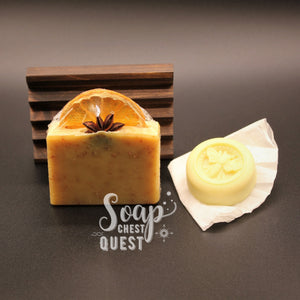 Orange Spice Treasures
Regular price
Sale price
$27.00
---
Orange Spice Treasures
Indulge with this gift box comprised of:
Orange Spice - bar of soap
Pine Soap Dish - sealed, zero maintenance
Citrus Twist - solid lotion bar
ORANGE SPICE
Soap
 
An anise star with an organic orange slice as background is extremely beautiful to gaze upon as the toping of this bar of soap and represents a warm sunrise. Your skin will be delightfully moisturized when covered in this luxurious lather full of large bubbles thanks to ingredients such as organic cocoa butter and organic apricot oil.
 
A delicate home blend of sweet orange and cinnamon essential oils offers a warm, stimulating scent while the orange peel powder offers a fun texture and gently exfoliates.
 
Instructions:
*For external use only. If irritation occurs, discontinue use. If in doubt, first test on the inside of the elbow.
**If pregnant or nursing it is recommended to contact a medical practitioner to seek guidance prior to using products containing essential oils.
 
Soap etiquette:
To prolong the lifespan of this handcrafted soap the use of a draining soap dish or a soap saver is recommended. Always keep it dry between uses and away from direct streams of water and daylight. The high glycerin content in handcrafted soap is wonderful for the skin but must dry between uses. Glycerin being a humectant attracts water and if left standing in it will become soft and wash away much faster. Unused soaps should be stored in a cool, dry place, preferably not the bathroom due to the high humidity but for example in a linen closet or drawer that offers a stable dry environment.
 
Ingredients:
Sodium Olivate (Olive Oil*), Sodium Cocoate (Coconut Oil*), Sodium Cocoa Butterate (Cocoa Butter*), Sodium Castorate (Castor Oil*), Glycerin, Aqua (Water), Sodium Apricot Kernelate (Apricot Oil*), Citrus Aurantium Dulcis (Orange) Peel Oil, Cinnamomum Cassia (Cinnamon) Oil, Citrus Aurantium Dulcis (Orange Slice & Peel Powder), Kaolin, Pimpinella Anisum (Star Anise), Sodium Lactate
*Saponified oils and butters
**Base oils and butters are certified organic from our suppliers but cannot be claimed as such after saponification.
 
Additional Information:
Net weight: 130 g
Cold process
Tested on humans
Vegan
Palm oil free
Biodegradable packaging
 
PINE SOAP DISH
Sealed, zero maintenance
 
Soap Chest Quest is pleased to offer this beautiful Pine Soap Dish which is sealed, maintenance-free and handcrafted by an artisan based in Montreal with Canadian sourced wood!
Pine Soap Dishes significantly increase the longevity of artisan soap by minimizing the contact area with the actual bars. This allows the soap to drain and dry correctly between uses, thereby extending the lifespan. All options available are made to last by being sealed and will not stain either soap or countertop.

Included:
Brown: stained with iron oxide & charcoal-based stain, sealed with penetrating epoxy
 
Manufactured by:
L'Olivier Naturals
312-4180 Avenue de Courtrai
Montreal, Quebec, H3S 1C2
Canada
Tel. 514-991-2032
 
CITRUS TWIST
Solid lotion bar
 
A hard lotion bar is solid at room temperature and melts upon contact with the heat generated from your skin upon application. This particular bar is delivered in a reusable metal tin and is the perfect size to place in a small bag while traveling. Beeswax, organic shea & cocoa butters and organic almond, hemp & coconut oils add to this extremely moisturizing lotion which is the perfect remedy for soothing dry skin located on hands, elbows, heels. It can be used as an overall lotion bar for the body immediately after the shower to lock moisture in, or as a nail & cuticle treatment. A special ingredient has been added to this lotion bar to ensure the sensation of a dry application that is quickly absorbed by the skin. A home blend of orange, litsea & spearmint essential oils, in addition to the natural scent of beeswax, leaves a delicate, fresh, citrus scent.

Avoid heat which will soften and possibly even melt the lotion bar.

Store in a dry, cool location. Solid lotion bars have a tendency to melt during warm spells and can be stored in the fridge throughout summer.

Instructions:
*For external use only. If irritation occurs, discontinue use. If in doubt, first test on the inside of the elbow.
**If pregnant or nursing it is recommended to contact a medical practitioner to seek guidance prior to using products containing essential oils.
 
Ingredients:
Cera Alba (Beeswax), Cocos Nucifera (Coconut*) Oil, Butyrospermum Parkii (Shea Butter*) Fruit, Theobroma Cacao (Cocoa*) Seed Butter, Prunus Dulcis (Almond*) Oil, Cannabis Sativa (Hemp*) Seed Oil, Maranta Arundinacea (Arrowroot) Root Powder, Tocopherol (vitamin E), Citrus Sinensis (Orange) Peel Oil, Litsea Cubeba Fruit Oil, Mentha Viridis (Spearmint) Leaf Oil
*Certified organic from our suppliers
 
Additional Information:
Net weight: 35 g
Tested on humans
Palm oil free
Reusable aluminum travel container