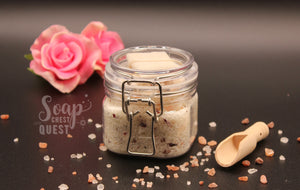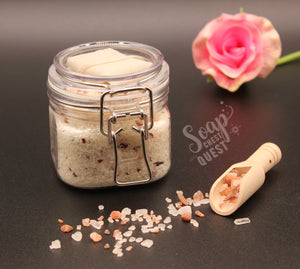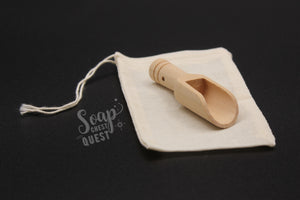 MISTY ROSE Bath Salts - Bail Jar
Regular price
Sale price
$21.00
---
Misty Rose
Rosa Damascena Flower Oil
Bath Salts
The rose is perhaps the world's best-known flower, stunning and exotic in both visual appearance and fragrance. These bath salts contain Rosa Damascena Flower Oil from Bulgaria, which makes them the ultimate luxury immersive spa bathing experience. 
Bulgaria has over 300 years' worth of tradition in essential rose oil distillation. Approximately 4000 kilograms of petals are required to produce 1 kilogram of pure rose oil. Its exotic nature and value were appreciated in ancient times by the Greeks, Chinese, Indians, Persians and Romans. 
Bath salts inspire wellness and self-care, gently cleansing the body while easing muscle aches, calming the mind and eliminating pathogens. Numerous minerals contained within this luxurious blend of European Spa Salt/Dead Sea Salt/Himalayan Pink Salt/Dendritic Salt/Epsom Salt help eliminate toxins and balance the entire body. This deluxe salt mixture helps purge impurities from the skin while providing you with the great benefits of a radiant glow, soft and supple skin. 
Upon first contact with the water these bath salts offer a fizzing action for your enjoyment and to spread the contents throughout the water. The jojoba carrier oil ensures the essential oils are correctly distributed throughout the water for maximum beneficial results, while equally hydrating and moisturizing your skin. 
How to use
:
Fill the bottom of the bathtub with hot water and pour ½ cup (or more if desired) of bath salts directly in the bathtub to allow them to dissolve. Then adjust the temperature of the water (the ideal temperature for a bath is somewhere between 32° C - 40° C / 90° F - 105° F) and fill the bathtub up to the desired volume prior to entering the bath using caution as the bathtub may be slippery. Enjoy your bath for a minimum of 10 minutes or for as long as desired.
If preferred, place salt inside the muslin bag provided with the help of the bamboo scoop provided and allow the bath salts to steep in the bath water inside the muslin bag. This will contain the flower petals within the muslin bag in order to facilitate cleanup.
Can be used as a FOOT BATH by placing a ¼ cup (or more if desired) of bath salts in a smaller tub basin and placing both feet inside the tub basin while remaining safely and comfortably seated. Very beneficial, less time consuming, offers easier access & cleanup and remains just as enjoyable.
Precautionary Statement:
*Use caution stepping in and out of the bathtub/basin which may be slippery.
*For ages 12 and up. Keep out of reach of children.
*For external use only.
*If pregnant or nursing it is recommended to contact a medical practitioner to seek guidance prior to using products containing essential oils.
 
Ingredients:
Magnesium Sulfate (Epsom Salt), Sodium Chloride (Himalayan Pink Salt, European Spa Salt, Dendritic Salt), Maris Sal (Dead Sea Salt), Sodium Bicarbonate, Citric Acid, Simmondsia Chinensis (Jojoba) Seed Oil, Rosa Damascena (Rose) Flower Oil, Rosa Centifolia (Rose) Flower, Hibiscus Sabdariffa Flower

Additional Information:
Net weight: approximately 220 g / 7.8 oz
Includes bail jar, mini bamboo scoop, muslin bag
Tested by humans
Vegan
Reusable packaging